Candace Friedman Receives 2017 Graham Ayliffe Certificate of Excellence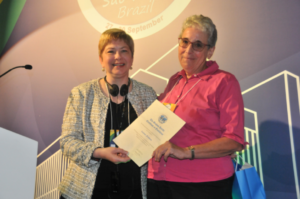 The IFIC Graham Ayliffe Certificate of Excellence was presented to Candace (Candy) Friedman, in recognition of her lifetime of contributions to international efforts in the prevention and control of healthcare-associated infections. Candy's work for IFIC included years of service in publications, both with the E-newsletter, and Basic Concepts of Infection Control text. She served on the nominations committee, and also carried out many miscellaneous tasks for IFIC. Prior to this, she envisioned a global consensus on prevention of resistant microorganisms, and led a group that included infection control societies from the US, Canada, the UK, and others.  She has always been a positive force in the world of infection control, and IFIC is very grateful for her service.
Candy Friedman is the Senior Project Manager in the Office of Clinical Safety at the University of Michigan Health System, Ann Arbor, Michigan. Candy served as Chair of the Publications Advisory Board covering: 1) IFIC's Basic Concepts Textbook since 2003 and 2) IFIC E-News since 2006.  Candy is officially transitioned out of the IFIC editorship of these 2 publications in 2016; however, she graciously consented to share some of her challenges, personal satisfaction and lessons learned during the past 13 years.
Basic Concepts Textbook: Challenges, Personal Satisfaction and Lessons Learned
Pat Lynch, one of IFIC's past president contacted Candy by email in 2003 with this request "IFIC was in urgent need of a professional volunteer who could do very challenging editing of a 95-page manuscript within a very short timeframe".  Ms. Lynch explained that the IFIC Basic Concepts manual had been in revision for months and it had an important deadline soon approaching; the editing had to be done by March 31, 2003 to qualify for a substantial grant from the Canadian Ministry of Health to pay for the French translation and printing of copies of the text which would also be very helpful to use in West Africa.
After Candy engaged in many thought-provoking hours, the 2003 edition was published. Since then she has led the revision of the 2006, 2011 and 2016 Basic Concepts editions. One major change is that the 2016 edition is only available as a free electronic download from the IFIC website. Candy explained that the greatest rewards of editing this text was managing it to completion and coordinating all of the requests from member societies and individuals all over the world. In addition, she communicated that her greatest challenges were differences in the: 1) language of the authors and 2) social norms and health systems among authors and reviewers. Finally, she learned important lessons to pass on to the new editor, "Be open to new ideas, be patient-not everyone in every country thinks the same way that I do"!
IFIC E-News: Challenges, Personal Satisfaction and Lessons Learned
E-News replaced the previous IFIC Newsletter in 2006. Mary Castle White, Coby Paardekooper and Gertie Van Knippenberg-Gordebeke had been the previous editors of the IFIC Newsletter. Before 2006 1-2 issues were published annually with support from a corporate sponsor for printing and distribution. Due to the increased use of the Internet, the Board decided to transition to an electronic format.
Candy enjoyed the challenge of putting together IFIC E-news. Without being restricted by the cost of printed pages, she was able to increase the number of issues to 4 annually.  She was challenged by meeting deadlines as she worked with all the contributors of the quarterly news. Once again she learned to be patient. Her most precious memories of volunteering for IFIC came from getting to know the board members - amazing, hardworking. individuals. Finally, she expanded her perspectives about global issues and solutions in different regions of the
world through attending IFIC conferences to learn from and network with infection prevention experts.
She generously coached Jeanne Pfeiffer, the new chair of publications through her 2016 transition year.